Thank you for Visting Beantown Burlap
Hello, we are a small family run business consisting of my husband and I. We Specialize in creating Personalized Burlap and Cotton Prints for any occasion. We started this business as a way of making a little extra money and spending time together doing something we love. Because of our amazing customers we have been able to grow into an incredible business and now have sold over 18,000 prints, Its a wonderful feeling to know that our customers love our work and that our custom pieces are in homes all over the world. Our Prints make for the perfect gift for Holidays such as Christmas Gifts, Mother's Day Gifts, Father's Day Gifts, Anniversary Gifts and any other special occasion you can think of. Hope you enjoy what we have created and we look forward to having you as part of our family.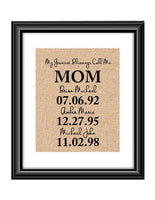 Best Seller - My Greatest Blessings Call Me MOM. Makes the perfect Christmas Gift, Mother's Day Gift or Birthday Gift for Mom.
This handmade burlap print is the perfect gift for Mom, Mommy, Mum, Mother-whatever you call the special lady in your life! Item is personalized with childrens names and birthdays. Ideal for many occasions like Christmas, Mother's Day, Birthdays, and more!
order here
Best Seller - This Is Us Personalized Family Print
This is the perfect Christmas Gift for any family. Print features the words This is Us followed by our life, our story, our home. Personalized family last name and family members first names rounds out this amazing gift that any family would be proud to display in their home.
order here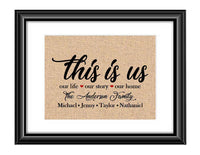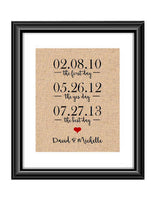 Best Seller - First Day, Yes Day, Best Day is our best selling Wedding and Anniversary Print.
This burlap or cotton print showcases a couple's love - highlighting all the dates that are most important and special to them. This is definately a gift any couple would charish for many, many years to come! This special print consists of 3 dates. The date at the top is the First Date (first day), the 2nd is the Engagement (yes day), and the 3rd is the Wedding Date (best day). Excellent gift for Newlyweds, Husband or wife, or new Parents!
order here
Best Seller - Thin Blue Line American Flag Personalized Police Officer Print.
This is the perfect Print to show your support for that special police officer in your life. They put their life on the line everyday to protect and serve and this will show them just how much that means to you.
Order here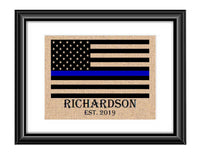 Testimonials from some of our customers
Purchased My Greatest Blessings Call Me MOM

Just a perfect gift, it brought tears to my moms eyes. Very sweet company as well, she took the time to write a personalized note.

Kylee E.
Purchased My Greatest Blessings Call Me GRANDMA

This turned out so much better than I expected!! I was iffy with only having 2 names put on it, instead of the 4 it shows in the preview. I thought it would look uneven, but it looks so good! They made it completely even out and look amazing.

Danielle R.
Purchased The First Day, The Yes Day, The Best Day

Exactly as described and shipped fast! Would definitely buy from again! Perfect Personalized gift for any couple!

Anne J.